Throughout the year we're involved with a variety of special events. It may be a show we're performing in, a local venue doing a one time stand-up show, something we think you would enjoy, or none of the above. The point is, sign up for our monthly newsletter below and you'll always know what going on.
STAND-UP FOR TEXAS
Friday, October 27, 2017
Norman P. Murray Community Center
A Night of Comedy to Benefit Port Aransas, Texas
Come join us for a night of comedy as we help raise money for the victims of Port Aransas, Texas. It will be a night of non stop laughter featuring the comedy of Tom Riehl, Ron Ruhman, Stephanie Blum, and Mark Schumacher.
WHEN: Friday, October 27, 2017 @ 7:30PM
WHERE: Norman P. Murray Community Center, 24932 Veterans Way, Mission Viejo, 92692
TICKET COST: $25 Reserved. $15 General Admission.
AGE: 17+
Tickets may be purchased at www.mvactivities.com.  If you would like to pay by cash or check, please visit the Norman P. Murray Community Center at 24932 Veterans Way in Mission Viejo. Tickets will also be available on the night of the show.
---
The City of Mission Viejo in partnership with many local non-profit organizations have launched a community-wide effort to help a middle school in a small Texas seaside town that was devastated by Hurricane Harvey.
Port Aransas is a city on Mustang Island on the Texas coast. It's known for its Gulf of Mexico beaches and fish-filled waterways. Port Aransas was among those cities, where the storm roared ashore with 130 mph winds and wreaked havoc on everything from homes to boats to businesses and Brundrett Middle School.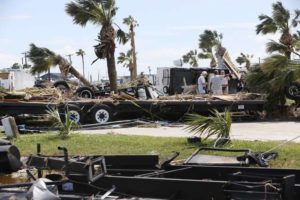 Folks in the small town are not wasting any time rebuilding the coastal community, with the top priority of getting the schools re-opened. The City of Mission Viejo, which in 2011 launched a similar effort to help tornado-stricken Joplin, Missouri, is supporting this town and school after learning Brundrett Middle School received the brunt of Harvey's wrath.
"We are working hard to assess damages, make repairs and get our facilities safe and ready for students and staff to return," said Superintendent of Schools Sharon McKinney. "Our staff is still in the process of assessing our needs. The number one need is for monetary donations."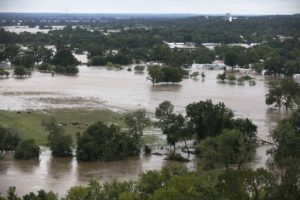 You can help repair this Port Aransas school by dropping off monetary donations and gift cards (Target, Walmart, Barnes & Noble or Amazon) during operating hours at the Mission Viejo Library, Norman P. Murray Community and Senior Center or any of the recreation and tennis centers. (Checks can be made payable to Mission Viejo Activities Committee)
Mission Viejo nonprofit organizations are also stepping up to help the Texas school including the YMCA, Nadadores MV Girls Softball, Mission Viejo Activities Committee, and Age Well Senior Services. Check back periodically to see other organizations who have joined the effort and additional ways you can help Port Aransas.
If you are a nonprofit organization or business and would like to help or become a collection point, contact the Mission Viejo Recreation & Community Services Department at 949-470-3061.